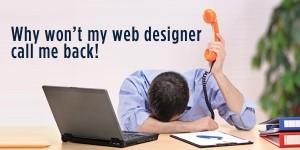 On the average Security Dealer Marketing will communicate with 8-12 security dealer's everyday. From existing clients to new sales prospects and it seems like every time we connect in the beginning of our relationship 5 comments are always made.
Why do you care you might ask? Well because it might help answer a few questions you may have had about us.
So here they are in no particular order:
1. I wish I met you months ago!
This is mentioned to us a lot and most of the time its due to some web design company that does not know the industry creating a half-assed website that generates no leads and worst yet, a website that the client is embarrassed of.
2. My web designer won't call me back! Can you help?
Another frequent question that is far too common. And the answer is maybe. Putting together a website is like putting together a house. Without the blueprints or without knowing what goes between the walls there is no way of really knowing until we dive into what you currently have, if you have anything at all.
3. What outside the box ideas for marketing can you help me with?
Most of the time when we hear this we'll tell the client, before you start venturing into secondary stages of marketing lets see what you're doing or not doing correctly. And 90% of the time the security dealer is not collecting emails from clients, does not have a proper referral program, is not doing an email marketing campaign, website is not setup correctly nor showing up on any type of local search. So what's the point? Make sure you're doing all the "foundational" marketing and doing them correctly before you start venturing into some crazy gorilla marketing campaign.
Chances are you'll see a significant increase in your in-bound leads. How do we know you might ask? Because we handle multiple security dealer accounts nationwide!
4. Tell me what's the difference between my local marketing agency and you guys?
REALLY? Lol, well in case our name does not say it all we specialize within this great industry and have become quite good at helping security dealers nationwide to improve their marketing.
We live, eat and sleep the security industry. Everything we offer is relative to what helps dealers to create more RMR, nothing less! So when we say Facebook is a huge waste of time in the security industry, there's a reason.
5. My biggest problem is I just don't have time! Can you help automate my marketing?
Yes! Security Dealer Marketing can help you in either 2 ways. We can act as your in-house marketing, know your goals, setting up a retainer, and implement all of the required actions to achieve them. With most cases we will create a 30, 60, 90 day marketing strategy and will keep in close communication with our client by having monthly phone conferences to report what happened last month. We'll also discuss what will be adjusted for the current month. This helps by ensuring the right marketing activities are happening requiring just a couple of hours per month on your part.
Or, we can help with pieces of your marketing such as web design, print, direct mail, SEO, PPC and more. We even have been known to play nice with others, meaning working with your current existing marketing team to help improve your bottom line.
So there it is. Maybe this will help to answer any questions you may have had when discussing or thinking to pick up the phone and call us.
By now we hope we're top of mind when it comes to hiring a marketing company to handle your needs. Because if we're not when you call us in the coming months you'll be kicking yourself like those referenced in comment #1 comment above.